I still remember that when I was a child, before going into school, I would buy some peanut pancakes from an uncle who selling the pancakes in front of the school by a tricycle. If time allows, I will also ask the uncle to add an egg for my peanut pancake. It makes me feel fuller and more delicious. But I have to wait for the uncle to pan-fry a new piece of peanut pancake to adds on an egg. The process needs to wait for at least 5 minutes.
Speaking of this traditional pastry, it can be divided into a thick version and a thin crispy version. The two recipes are similar. The difference is the amount of batter poured on the frying pan. My mother called the thick version "Dai Kau Min" pronounce in Cantonese. And the thin version Penangese Hokkien is called "Ban Chang Kueh". Ban Chang Kueh uses a smaller 6-inch pan, so it does not need to be sliced.
The name "Ban Chang Kueh"
Therefore, in my impression "Ban Chang Kueh", the "Ban" word pronounce meaning slow. So Ban Chang Kueh kinda have a meaning of slow process pancake. Haha. It takes time and patience to make Ban Chang Kueh. It also takes time and patience to wait when buying Ban Chang Kueh too. Therefore, there is a little in common between making and buying Ban Chang Kueh is waiting. It takes time and patience to slowly fry the batter until it is cooked and golden brown. The traditional Ban Chang Kueh filling is ground peanuts, white sugar, margarine and canned creamed corn or add an egg. The pancake is a little thick, and the edges will be full of crispy mouthfeel.
This Pancake has many names and pronounce :

Ban Chang Kuih, Ban Chien Kuih, Ban Chiang Kueh, Apam Balik, Peanut Pancake, Malaysian Pancake, Turnover Pancake, Martabak Manis, Kue Bandung, Martabak Bangka
Today, the Ban Chang Kueh selling at the Hawker Centre are very diverse, and there are more than 20 kinds of fillings that can be added. From the sweetness of fruits jam and chocolate sauce to the sausage, crab fillet, and cheese savoury filling flavours etc.
There is another simple & delicious pancake recipe you may like : Traditional Chives Chinese Pancake
The Malays are also selling Peanut Pancake, called Apam Balik. However, in terms of taste, they prefer traditional peanut creamed corn taste. No matter which ethnic pastry Ban chang Kueh belongs to, it still a favourite food of Malaysian.
Similar Pancake in Asia
Apam Balik is called Martabak Manis in Indonesia. It is also called Martabak Bangka because it originates from Pulau Bangka on the southeast side of Sumatra. The recipe is similar to the local traditional thick peanut pancake. It is popular from Bangka Island to all parts of Indonesia. And because it is shaped like a full moon, it also named Kueh Terang Bulan. On Bangka Island in Indonesia, this food also called "Hoklopan", which means rich boss. Because there are many Hakka immigrants on the island, it is called "Kueh" as"Pan". Indonesian fillings are mostly sweet, sprinkled with shredded cheese and chocolate chips, and then drizzled with a lot of condensed milk.
In Taiwan, there are 麥仔煎, the traditional classic filling flavour is peanut sesame powder. The street stalls in Taichung also sell cabbage flavours.
History of Ban Chang Kuih
According to the internet information, In 1855, the army of the Taiping Heavenly Kingdom invaded the Fujian region and General Tso was appointed to lead an army to crush the rebels. To provide the soldiers with food without interfering the life of local people, General Tso decided to switch from the flatbread which was eaten together with spring onion and chilli sauce, to the pancake that used locally-sourced and mass-produced ground cane sugar and peanut as filling. The recipe for the pancake was spread throughout the Fujian region, especially in places around Quanzhou and later on throughout the whole Southeast China. It was also brought into countries in Southeast Asia by the Chinese Hokkien immigrants.
Serve as Main Course & Dessert
This recipe contains less sugar in the batter, mainly because the pancake can be freely served with savoury or sweet fillings. Normally, we make a piece with savoury fillings such as sausage, bacon, lettuce, mayonnaise, and cheese slices as the main course. The other piece is sweet filling such as jam and fruits. In this way, the breakfast would taste great!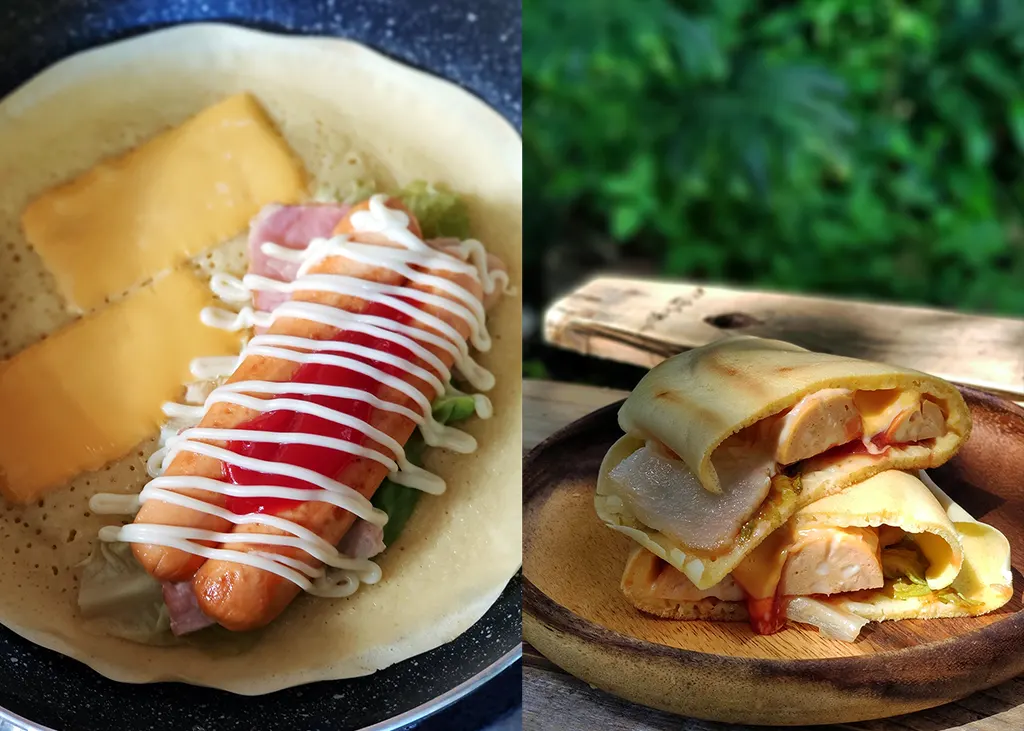 Peanut Pancake / Apam Balik
This Peanut Pancake (Apam Balik) recipe contains less sugar in the batter, mainly because the pancake can be freely served with savoury or sweet fillings. Normally, we make one savoury filling flavour and one sweet filling such as jam and fruit as a dessert. In this way, the breakfast would taste great!
Please Click 1-5 Star to Rate This Recipe
Print
Pin
Comment & Rate
INGREDIENTS
🥣 BATTER
130

g

All Purpose Flour

160

ml

Water

1

Egg

2

tsp

Baking Powder

1

tsp

Sugar

0.5

tsp

Salt
🌽 FILLING
1

Canned Creamed Corn

100

g

Peanuts

6

tsp

Sugar

3

tsp

Butter
---
---
INSTRUCTIONS
Put the peanuts in a dry pan and roast until fragrant. Set aside to cold down.

Put in flour, baking powder, sugar and salt, then eggs, pour in water while stirring.

Sift the batter and let the batter rest for a while.

Peel the peanuts and pound it.

Pour the batter in a non-stick pan over medium-low heat and sweep it slightly to the edge of the pan to make it crispy.

When the batter is fried until it has bubbles and cooked, it is ready to add butter, creamed corn, peanuts, sugar.

Wait until the pancake is fried until golden brown, fold it into half and it is ready to serve.
NUTRITION
Serving:
1
slice
|
Calories:
271
kcal
|
Carbohydrates:
37.6
g
|
Protein:
8.7
g
|
Fat:
11.4
g
|
Saturated Fat:
2.7
g
|
Cholesterol:
32
mg
|
Sodium:
425
mg
|
Potassium:
415
mg
|
Sugar:
7.7
g
|
Calcium:
98
mg
|
Iron:
2
mg
We are Penangites who love to COOK & EAT, so we are sharing the food we love with you. Know more about us…
---
Related Recipes