It's Babutai (stinky bean) season recently, and today I'm going to share the love and hate Sambal Dried Shrimp Fried Stinky Beans. Love it because it's really delicious, and it's even better with Nasi Lemak! Hate it because after eating it, it will make you smelly in the toilet for several days!
Stinky Beans
The stinky beans need to break out one by one. The way of breaking it apart reminds me of the 8 shape of chocolate beans I ate when I was a child. The tip of the stinky bean is the head, and the round place is the tail. We just cut about 2/3 from the tail with a knife, and then break it apart to see the complete core, just remove it. If you cut it in half, it will also cut the core in half, so you have to remove the core on both sides.
This way of treating petai is to ensure that there are no worms in it, and to remove the core, by the way, people said that it will not be bitter. Its nutritional value is indeed very high, but it takes more time to process. If you want to store the processed stinky beans, don't wash them first. Packed in an airtight box can keep in the refrigerator for about a week.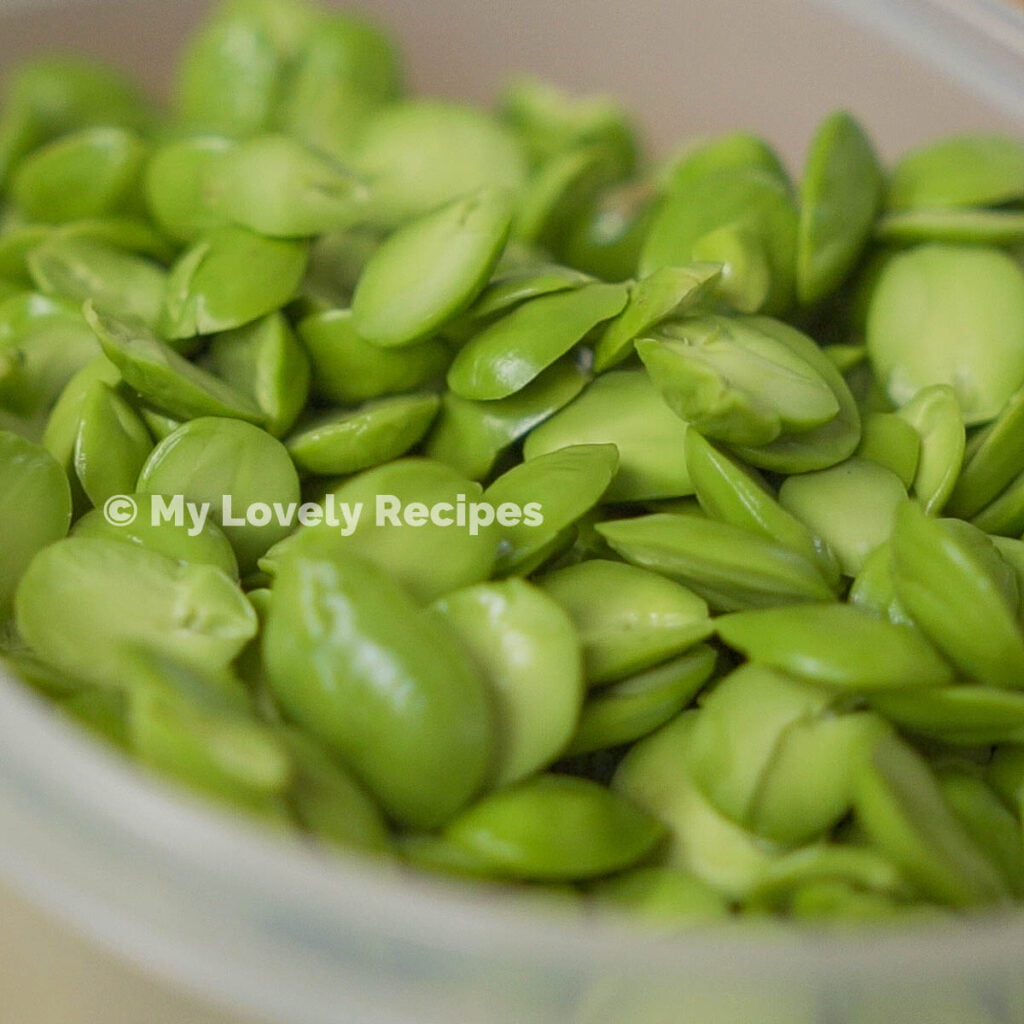 Dried Shrimp
My mother-in-law said that the dried shrimp in this dish is delicious only you pound it. But if you don't have a mortar at home or you want to save time, you can use a food processor to blend it up. Her method is to add a little oil and fry the dried shrimps to be fragrant. She said that this can truly force out the aroma of dried shrimps. Finally, mix the sauteed dried shrimp with sauteed sambal. Although there is one more step in the procedure, the taste of dried shrimp is really fragrant.
You can stir fry more Sambal Hebi at one time and refrigerate. It is delicious to use as a filling, stir-fry with seafood vegetables, and eat with cucumbers. We like to eat Sambal Hebi with Mint. This recipe is about 10 servings. Stinky beans can be eaten raw, so add boiling water and just stir-fry for a while and enjoy!
If you like the Petai With Sambal Dried Shrimp recipe we shared. Welcome to share it with your relatives and friends, I wish you a happy life~
Petai with Dried Shrimp Sambal
It's Babutai (stinky bean) season recently, It is delicious to use as a filling, stir-fry with seafood vegetables, and eat with cucumbers. We like to eat Sambal Hebi with Mint.
Please Click 1-5 Star to Rate This Recipe
Print
Pin
Comment & Rate
INGREDIENTS
100

g

Dried Shrimp

30

g

Belacan

40

g

Tamarind

2

pcs

Sliced Onions

80

g

Palm Sugar

4

tbsp

Cooking Oil

3

Pandan Leaves

Stinky Bean

Water
POUNDED INGREDIENTS
15

Dried Chillies

Remove Seeds

10

Red Chilies

Remove Seeds

30

g

Galangal

30

g

Turmeric

200

g

Shallots

1

Whole Garlic

2

Sticks

Lemongrass

Water OF Soaking Dried Shrimps
---
---
INSTRUCTIONS
Soak dried chilies and dried shrimps in water to soften.

Dilute the tamarind with a bowl of water and strain out the seeds.

After the dried shrimps are drained, pound them and keep the soaked water.

Remove the seeds from the dried chilies and red chilies, cut the "POUNDED INGREDIENTS" into small pieces, add in the soaked water and blend them with a food processor.

Add a little cooking oil to the pan, add in pounded dried shrimps, stir-fry until fragrant and set aside.

In a dry pan, add the Belacan and sauté over low heat until fragrant.

Add in cooking oil and sauté onion until soft.

Add the pounded ingredients and stir-fry until fragrant. Keep stirring and control the heat to avoid burning.

When it's almost dry, you can start adding the tamarind juice in 2-3 times and continue to fry until the oil comes out.

After frying until fragrant, add palm sugar, sauteed dried shrimp, and pandan leaves, and stir well.

Finally add stinky beans and water, stir well and enjoy. The amount of water can be adjusted according to personal taste.
NUTRITION
Serving:
1
people
|
Calories:
178
kcal
|
Carbohydrates:
26
g
|
Protein:
5.8
g
|
Fat:
6.1
g
|
Saturated Fat:
1
g
|
Cholesterol:
30
mg
|
Sodium:
686
mg
|
Potassium:
621
mg
|
Fiber:
1.3
g
|
Sugar:
10.3
g
|
Calcium:
122
mg
|
Iron:
3
mg
We are Penangites who love to COOK & EAT, so we are sharing the food we love with you. Know more about us…
---
Related Recipes