Crystal Prawn Dumplings or Dim Sum Shrimp Dumplings are the Hong Kong-style Dim Sum that we must be ordered whenever visit a Dim Sum restaurant, which are generally called Har Gau/Har Gow in Cantonese. Of course, Chee Cheong Fun, Steamed Glutinous Rice With Chicken, Turnip Cake and other delicious Dim Sum are also indispensable. The crystal and chewy skin with the delicious shrimp filling, you will not enough to eat only three pieces at the Dim Sum restaurant. Then let's learn how to make shrimp dumplings from scratch, and enjoy it at home.
The recipe of Har Gow is very similar to that of Crystal Dumplings (Chai Kuih), only the filling is different. Crystal Dumplings is generally filled with vegetables, such as chives, jicama or yam. The Har Gow is mainly filled with shrimp. This time we used the method of making shrimp balls, minced the shrimps into a puree, and then replace the bamboo shoots with water chestnuts it taste great as fresh and crispy. Crystal skins are generally 9-13 pleats, of course, the thinner it can be the better. But for beginners, try not to break the crystal skin, it is already a good start. Remember to reserve a little space when wrapping the shrimp filling. Because the shrimp will expand during the cooking process. If the dumpling is too full, it will break the crystal skin during steaming.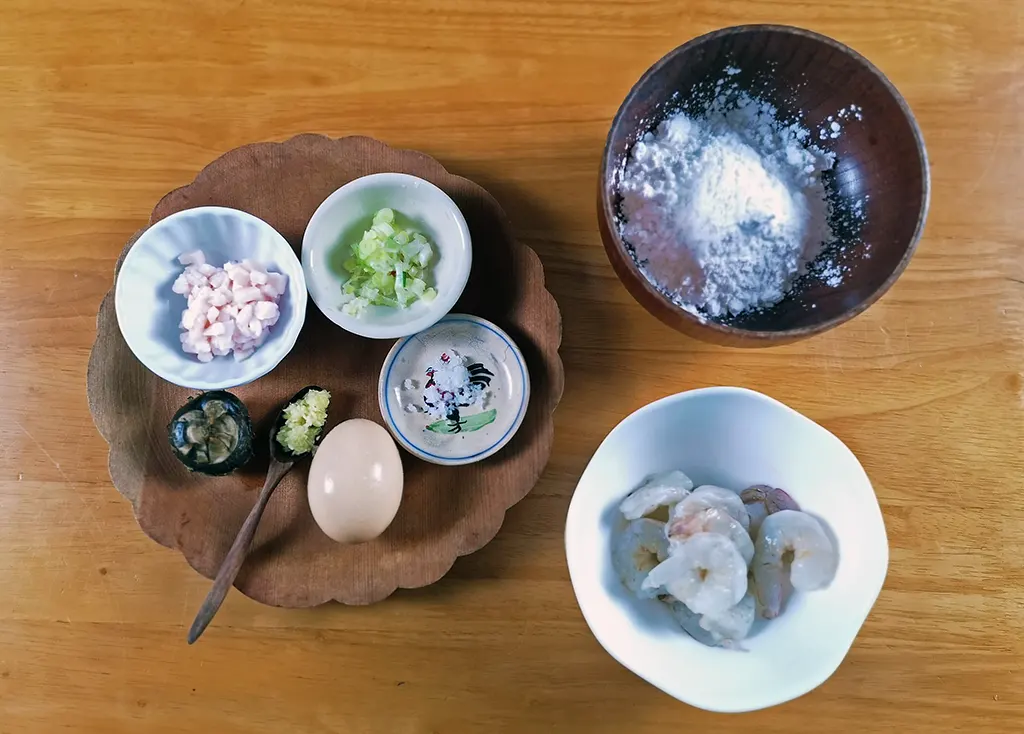 According to Internet Information
Har Gow is a local traditional snack in Guangdong Province, and they belong to the Cantonese cuisine among the eight major cuisines in China. Har Gow was founded in the early 20th century in a small family-style teahouse in Wufeng Township, Wu Village, Guangzhou Suburbs. The traditional shrimp dumplings are half-moon-shaped and have twelve pleats in the spider belly shapes. The fillings are shrimp, meat, and bamboo shoots. They are delicious, smooth, and delicious.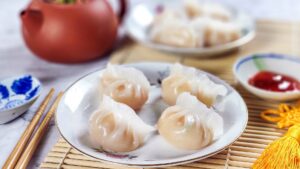 Har Gow (Shrimp Dumplings)
Har Gow is the very popular Hong Kong-style Dim Sum. Let's learn how to make shrimp dumplings from scratch, and enjoy it at home.
Please Click 1-5 Star to Rate This Recipe
Print
Pin
Comment & Rate
INGREDIENTS
🦐 Filling
100

g

Shrimp

20

g

Pork Fat

3

pcs

Water Chestnut

Some Spring Onion

Some Minced Ginger

1

tbsp

Egg Whites

0.25

tsp

Salt

0.25

tsp

Sugar

1

tbsp

Oyster Sauce

1

tsp

Cooking Wine

0.25

tsp

Sesame Oil

1

tsp

Corn Starch

Little Pepper
🥟 Skin Dough
30

g

Wheat Starch

30

g

Tapioca Starch

65

ml

Boiling Water

0.25

tsp

Salt

1

tsp

Cooking Oil
---
---
INSTRUCTIONS
🦐 Filling
Chop the ginger, spring onions and water chestnuts into small pieces.

Cut the shrimp in half and put it in a bowl for later use, and the rest minced with the back of the knife become shrimp paste.

Chop the pork fat into small pieces then add in shrimp paste.

Add egg whites, sugar and salt to the shrimp paste and stir the mixture in one direction until it forms a sticky paste.

Add the ginger, spring onion and water chestnuts, pepper, oyster sauce, sesame oil and corn starch to the paste. Stir well and put in the refrigerator for 30 minutes marinated.
🥟 Skin Dough
Add wheat starch, tapioca starch and salt to the bowl, then pour in boiling water and stir well.

When the dough is not so hot, pour in the oil and knead it by hand and rest for 10 minutes.

Divided the dough into 12 pieces, each about 10 grams.

You can use a knife/plate/wood stick to press the dough into flat and then wrap it into a dumpling shape.

After water boiling, steam on high heat for 8 minutes, and enjoy while hot.
NOTES
💡Tips:
If the dough is too moist or too sticky, you can add some tapioca starch.
You can made more shrimp dumplings at one time and freeze them directly. When you want to eat, just take it out of the freezer and directly steam it for at least 12 minutes.
NUTRITION
Serving:
1
piece
|
Calories:
47
kcal
|
Carbohydrates:
5.4
g
|
Protein:
2.3
g
|
Fat:
1.7
g
|
Saturated Fat:
0.5
g
|
Cholesterol:
19
mg
|
Sodium:
130
mg
|
Potassium:
20
mg
|
Sugar:
0.2
g
|
Calcium:
9
mg
We are Penangites who love to COOK & EAT, so we are sharing the food we love with you. Know more about us…
---
Related Recipes