Muah Chee, one of the main materials is glutinous rice flour. The delicious Muah Chee texture is smooth, chewy and elastic. Heretofore, people who want to eat mochi had to start by growing glutinous rice. And after the harvest, the glutinous rice need to takes through a series of complicated processes. After that, soak it and grind it into rice milk with a stone mill, hang it with a cloth, drain the water and dry it to get glutinous rice flour. Because there was no food blender back in the days. Nowadays many things are modernized and convenient.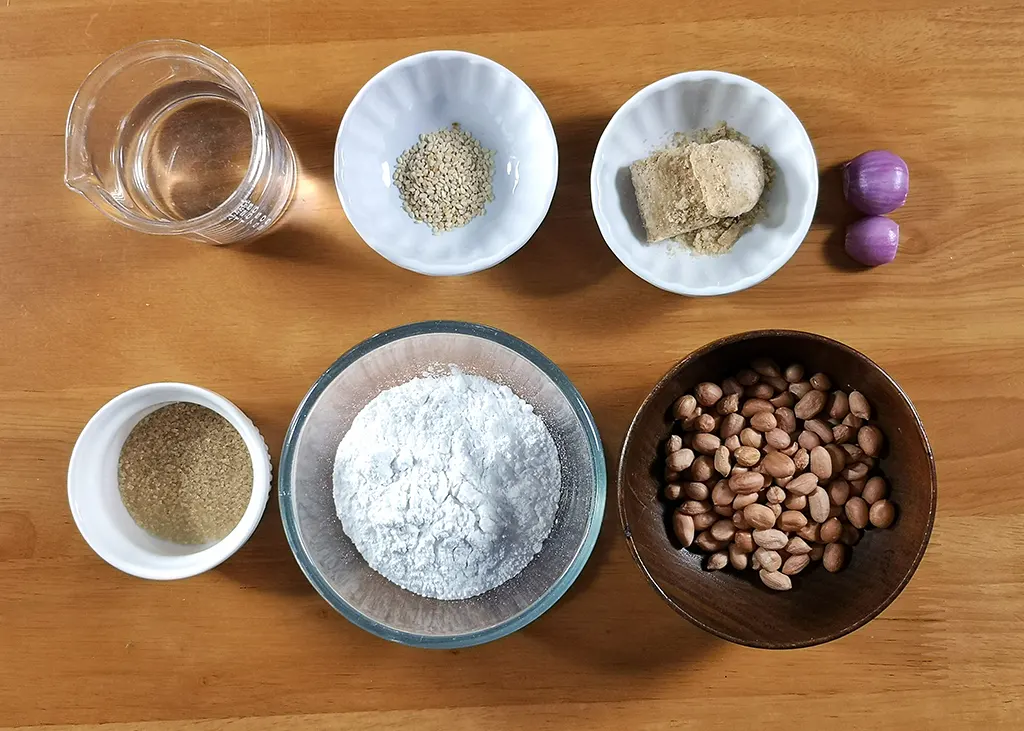 Muah Chee is a traditional snack. Nowadays, this traditional snack is hard to buy in the market. Usually, the uncle who selling Muah Chee is mobile with a motorcycle. However, It just need a few simple ingredients, glutinous rice flour, peanuts and sugar. These three basic ingredients can start to make this delicious traditional snacks.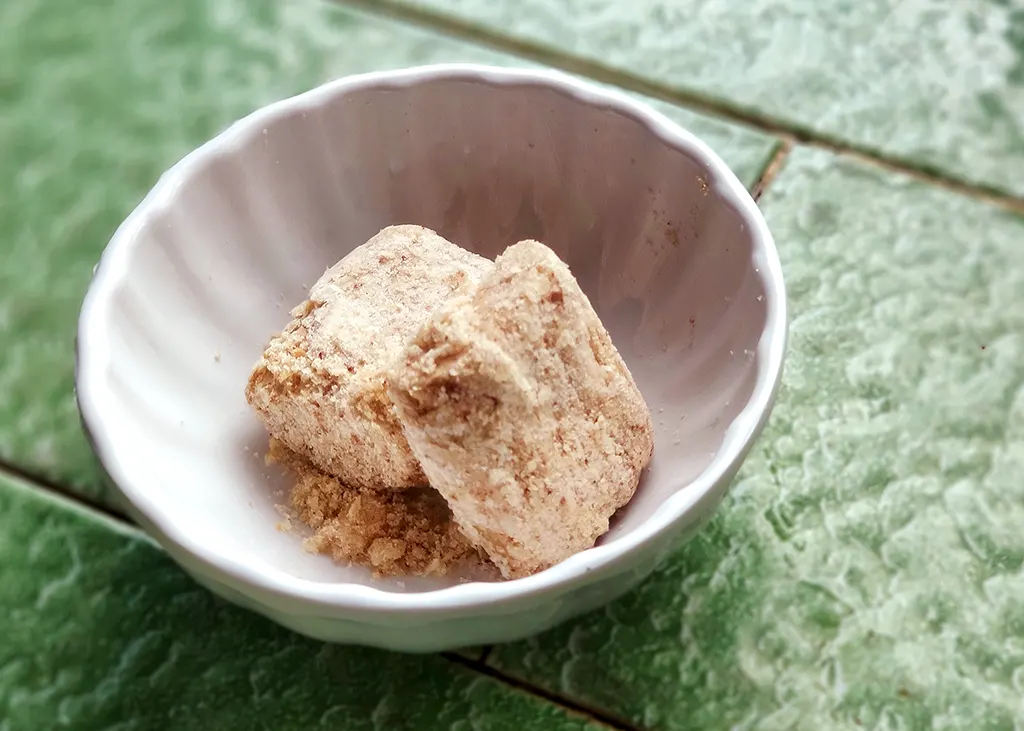 Grandma Recipe
As for the addition of shallot and peanut candy, according to my mother, it is the grandmother's exclusive recipe. The shallot is sautéed with oil to give the glutinous rice balls a scent of sweet, delicate flavour and aroma. If you don't like it or don't have shallots, you can just use vegetable oil. Adding peanut candy enhance the aroma of peanut powder. The traditional method is to steam the glutinous rice batter and knead it inside a bag. Our method omits the two steps of "steam" and "knead it in a bag". Nowadays we have non-stick pan, just pour the glutinous rice batter directly into a non-stick pan and keep stirring and kneading on a low heat until it becomes a chewy dough. The steps we omitted can also make a chewy and elastic texture. Just to reduce dishwashing and save some resources.
If you like the taste of glutinous rice, you may like this Dim Sum "Lo Mai Gai (Steamed Glutinous Rice with Chicken)"
There is many different names
Mochi, the English name is Glutinous Rice Cake. In Japan, Mochi is a traditional snack wrap with red beans, soy flour..etc. In addition, Daifuku is the one fillings with strawberries or ice cream, which is a popular dessert in Japan. There is another way to cook, it can be a grill or put in a hot pot. Which is also very similar to the Korean spicy fried rice cake Tteok-Bokki. Hong Kong commonly known as Glutinous Rice Dumplings, is similar to Daifuku. Glutinous Rice Dumplings are usually filled with sesame or peanut powder. Actually the Glutinous Rice Balls in Hong Kong is very similar to the Muah Chee in Singapore and Malaysia.
In Conclusion, there is many pronunciation of this snack. There is different in Hokkien and Teowchew, it called Muar Chee or Moa-Chi. It is derived from "Moachi" it does not contain fillings. It is a traditional snack that cutting into small pieces and sprinkling peanut powder and sugar.
There are different names and pronunciation :

Mua Ji, Muah Chee, Muar Chee, Moa Chi, Glutinous Rice Balls, Rice Cake, Mochi
Muah Chee (Glutinous Rice Balls)
Muah Chee is a traditional snack. Nowadays, this traditional snack is hard to buy in the market. Just need a few simple ingredients to make this delicious traditional snack at home.
Please Click 1-5 Star to Rate This Recipe
Print
Pin
Comment & Rate
INGREDIENTS
50

g

Glutinous Rice Flour

100

ml

Water

1

piece

Shallot

1

tbsp

Cooking Oil

50

g

Peanut/ Peanut Powder

2

pieces

Peanut Candy

1

tsp

White Sesame

3

tsp

Sugar

A Pinch of Salt
---
---
INSTRUCTIONS
Roast the peanuts with medium-low heat until fragrant and set aside let it cold down then peel off the skins of the peanuts. (Omits this step if use peanut powder)

Roast the white sesame seeds with low heat until fragrant and set aside.

Low heat pours in cooking oil and sautées the shallot. Drained oil and scoop up then set aside.

Pound the peanuts, shallot, peanut candy(you can use food blender), then put in a plate a mix with sugar and white sesame seeds.

Glutinous rice flour mix with salt and water, stir well, pour into the room temperature non-stick pan with shallot oil, keep stirring with low heat until it becomes a dough. Then knead it in the pan until it cooked and elasticity.

Put the glutinous rice dough into the plate with peanuts powder, then cut it into small pieces and coat with the peanuts powder. Enjoy it.
NUTRITION
Serving:
1
person
|
Calories:
853
kcal
|
Carbohydrates:
103.5
g
|
Protein:
20
g
|
Fat:
42.6
g
|
Saturated Fat:
5.7
g
|
Sodium:
217
mg
|
Potassium:
428
mg
|
Sugar:
18.2
g
|
Calcium:
86
mg
|
Iron:
4
mg
We are Penangites who love to COOK & EAT, so we are sharing the food we love with you. Know more about us…
---
Related Recipes