Shrimp can be used as a condiment and as a main ingredient in a dish. It is common for many cultures to use shrimp as a condiment, we usually used it to stir-fry bean sprouts at home, it's adding more flavor. But today we are making shrimp balls.
Minced shrimp can also be called shrimp balls. Generally, handmade fishballs can be easily found in restaurants. But the shrimp balls or minced shrimp are relatively rare dishes, maybe it is a factor of more operations. After all, in addition to devein and shelling the shrimp would be a process too. It is not difficult to make shrimp balls at home, but it just needs some preparation works. If you like shrimp dishes and want to try different cooking methods of shrimps, then you definitely must try this recipe.
A Few Tips
With a few cooking skills, you can easily make delicious and chewy shrimp balls. It is more saving time if we smash the shrimps and squeeze out the paste of shrimps at first. And we kept 3 whole shrimps for later, just to makes it more texture and increase the richness of the taste. Remember to use the back of the knife to mince the shrimps, because we actually don't want the shrimps to be cut, we just want it to be mashed. The knife will affect the taste of the shrimp and it will not be firm up during the subsequent mixing process and will lack elasticity.
After minced the shrimp, add egg whites, corn starch and pepper, remember to beat the shrimp paste in one direction only to help the shrimp paste firm up quickly. Add rice wine that soaked with ginger and scallions in portions during the beating process to allow the shrimp paste to fully absorb and makes it less fishy. After stirring until the shrimp paste is firm, you can scoop up a spoon and put it in the water. If it floats, which means you have successfully made the shrimp paste. Turn to low heat after the water boiling, because the boiling water will easily make the shrimp balls break.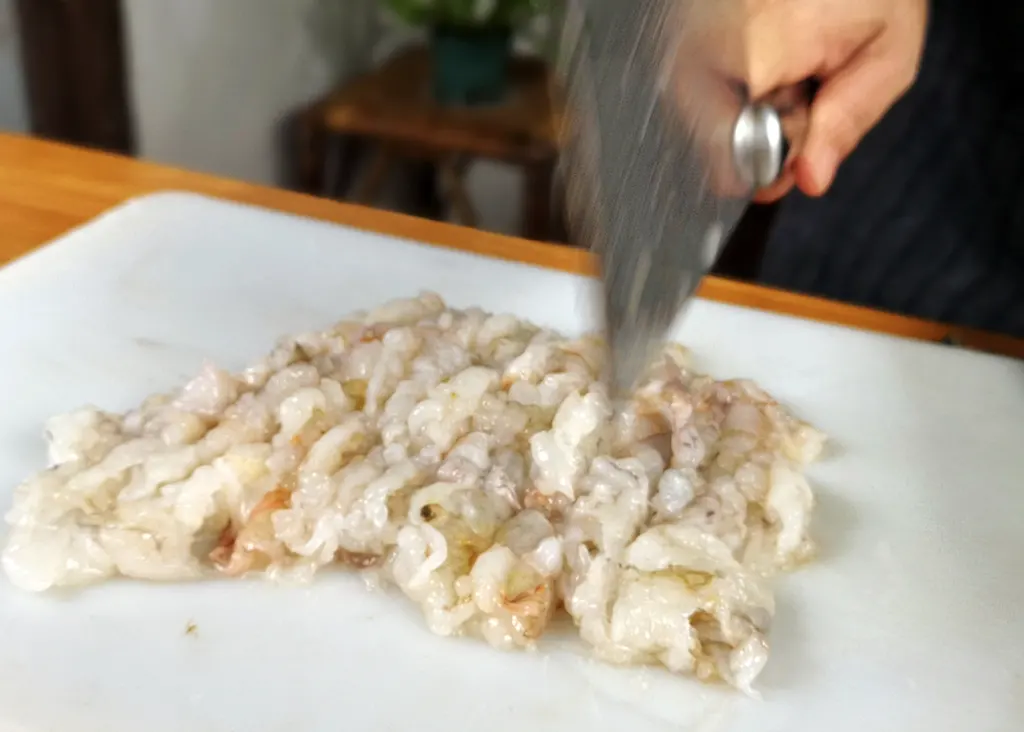 Information from the internet
Shrimp are mostly made up of protein and water. The antioxidant in shrimp is good for your health. These substances can protect your cells against damage. Studies suggest that the antioxidant astaxanthin helps prevent wrinkles and lessens sun damage.
Shrimp is extremely nutritious, containing protein several times to tens of times that of fish, eggs, and milk; it also contains abundant minerals such as potassium, iodine, magnesium, phosphorus, and vitamin A, aminophylline, and shrimp meat is soft and easy to digest. Although the nutritional value of shrimp is high, it is also necessary to pay attention to some cautions. Shrimp for some people with skin eczema, ringworm, dermatitis, sores and other skin pruritus is not suitable to eat; physical allergies, such as allergic rhinitis, bronchitis, recurrent allergic dermatitis. Shrimp should be avoided during large doses of vitamin C too.
Shrimp Balls Seaweed Tofu Soup
Minced shrimp can also be called shrimp balls. Generally, handmade fishballs can be easily found in restaurants. But the shrimp balls are relatively rare dishes in Malaysia.
Please Click 1-5 Star to Rate This Recipe
Print
Pin
Comment & Rate
INGREDIENTS
200

g

Shrimps

1

tbsp

Corn Starch

1

tsp

Salt

1

Egg

0.25

piece

Seaweed

1

piece

Tofu

3

slices

Ginger

1

Spring Onion

3

cloves

Garlic

1

tbsp

Soy Sauce

1

tbsp

Oyster Sauce

2

tbsp

Rice Wine

1

tbsp

Vegetable Oil

1

liter

Water
🥢 Dipping Sauce
1

Bird's Eye Chili

1

clove

Garlic

1

Calamansi

1

tbsp

Soy Sauce
---
---
INSTRUCTIONS
Put two slices of ginger and some spring onion in a bowl and soak them with 2 tablespoons of rice wine.

Dice tofu and set aside for later use.

Minced garlic, use a portion to fried into garlic oil and set aside.

Another portion used as a dipping sauce, mix the minced garlic, bird's eye chili, Calamansi juice and pour soy sauce.

Devein the shrimps after shelling and absorb the excess water on shrimps with kitchen towels.

Put the shrimps on the cutting board and use the knife to squash out the shrimp paste.

Add salt into shrimp paste and minced with the back of the knife.

After minced the shrimps, add half egg white, corn starch and some pepper, stir the mixture until it forms a sticky paste. Add the rice wine in portion during the stirring process.

Scoop a tablespoon of shrimp paste and put it into the water for a test, if it floating on the water means that the shrimp paste shown successful.

After the water has boiled, turn it into low heat. Scoop the shrimp paste into a ball shape with a spoon or with hand, cook the shrimp balls with low temperature.

Pour the tofu into the soup and add oyster sauce, soy sauce and then seaweed.

Beat the rest of the egg liquid then pour it into the soup. Bring to boil and turn off the heat, sprinkle some green onions and garlic oil, then enjoy it!
NUTRITION
Serving:
1
people
|
Calories:
304
kcal
|
Carbohydrates:
18.2
g
|
Protein:
30.5
g
|
Fat:
12.5
g
|
Saturated Fat:
2.9
g
|
Cholesterol:
293
mg
|
Sodium:
2559
mg
|
Potassium:
345
mg
|
Sugar:
5.1
g
|
Calcium:
221
mg
|
Iron:
2
mg
We are Penangites who love to COOK & EAT, so we are sharing the food we love with you. Know more about us…
---
Related Recipes