Mung bean sprouts are a common Chinese dish. During the Malaysia movement control order, you can try to grow mung bean sprouts at home. If you are bored at home or you want to prevent the crowded of the wet market. And If there are children in the family, there is one more parenting activity. From soaking bean sprouts to irrigation and remove the roots of bean sprouts is a very good experience to cultivate planting fun. Only need to pay attention to a few points, then you can easily grow bean sprouts at home.
Prepare a Kettle
First, prepare a kettle. Use a kettle to grow bean sprouts because it is a good tool to avoid sunlight. And the kettle structure can easily handle the process of changing the water several times a day during the growing process. For the material of the kettle, we recommend using a stainless steel or ceramic kettle.
Because of video shooting, we used a glass kettle. During the process of changing water, glass kettle exposed to light and cause it to turn into a little bit of red colour. In fact, bean sprouts that are red when exposed to light are safe to eat. It's just that the anthocyanins in mung bean sprouts react differently colour under different conditions. To make it clearer, this red bean sprout is the colour of anthocyanin, which is the same as chlorophyll and completely non-toxic. Others say that red colour bean sprouts taste bitter. We have eaten and feel that there is no such problem. Only the colour is different, if you don't like it, you can remove the red part.
Next is mung beans. We bought regular mung beans from the wet market. After wash the mung beans, soak in the water and then pick up some broken or floating mung beans. This part is mainly to avoid the spoilage of mung beans in the process of growing, which will spoil and infected bacteria and to affect the other mung beans. After washing and picking, soak the mung beans in filtered water or spring water for overnight or at least 6 hours. Generally, mung beans are dried for storage purpose.
Remember to Water
Therefore, the mung beans growing can germinate well after soaking it in water for at least 6 hours. After washing with filtered water at least twice, place it in a shady place to start the operation of growing bean sprouts. The next operation is to change the water at least 3 to 5 times a day, depending on the weather. If the weather is hot on the day, watering the bean sprouts every 2 to 3 hours to avoid smouldering. In the process of watering, it is better to wash at least twice. In the process, try to pick up some floated mung bean shells. Remember that every time you wash and water, you must drain the water. Avoid soaking sprouts in water will cause spoilage of sprouts. As for the changed water, it can be use to watering flowers.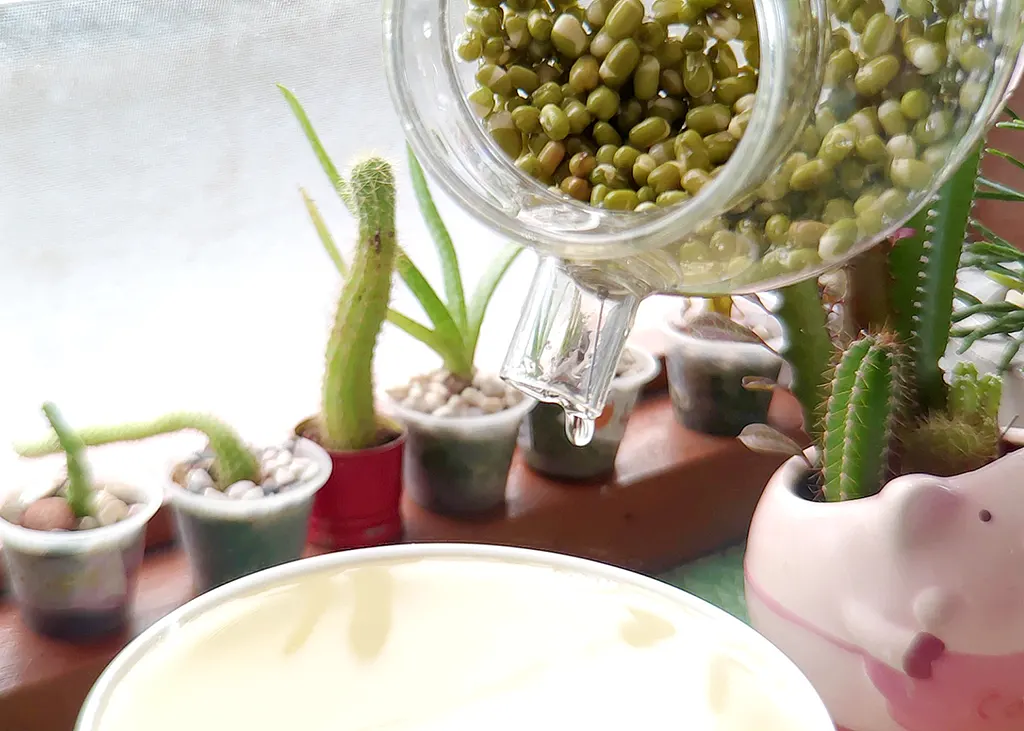 The Nutritional Value
According to online information, mung bean sprouts are a common dish in daily diet. Although it is very low-key, it can't hide its health benefits. Mung bean sprouts are rich in nutrients and are one of the foods admired by natural foodists. During the germination of mung beans, vitamin C increases a lot, up to 7 times the original content of mung beans, so the nutritional value of mung bean sprouts is greater than mung beans. Mung bean sprouts are rich in vitamin C. Mung bean sprouts contain riboflavin, which is suitable for people with mouth ulcers. The study found that mung bean sprouts contain minerals such as protein, fat, carbohydrates, various vitamins, cellulose, carotene, niacin, phosphorus, and zinc, and have multiple uses. Therefore, people with chronic enteritis, chronic gastritis and indigestion should not eat more.
Mung bean sprouts are extensively cultivated and consumed in East Asia. In Chinese cuisine, mung bean sprouts are a common ingredient, you can found it on many Chinese dishes like noodle soup, stir fry turnip cake, spring rolls etc. In Japanese cuisine, moyashi (もやし), in a strict sense refers to the mung bean sprout. They are a common ingredient in many Japanese dishes such as stir fry and soups quite similar to Chinese cuisine. And for Korean cuisine, sukjunamul (숙주나물) refers to both the mung bean sprouts themselves and the namul (seasoned vegetable dish) made from mung bean sprouts. They are also used in bibimbap , in the fillings of dumplings and in sundae (Korean sausage).
Stir Fry Home Grown Bean Sprouts with Salted Fish
Use a kettle to grow bean sprouts at home. The kettle structure can easily handle the process of changing the water several times a day during the growing process. This dish is simple and easy common Chinese dish.
Please Click 1-5 Star to Rate This Recipe
Print
Pin
Comment & Rate
INGREDIENTS
1

bowl Bean Sprouts

1/2

Red Chili Shreds

2

tbsp

Water

1

clove

Minced Garlic

1

tsp

Oyster Sauce

1

tsp

Salted Fish

1

tsp

lard

Some Spring Onions

Some Sliced Carrots

A little of Pepper
---
---
INSTRUCTIONS
🌱Growing Bean Sprouts
Mung bean soak in filtered water for at least 6 hours or overnight.

Pour off the soaked water, use filtered water to wash at least two times, then drain the water. Put the kettle in the sandy place.

Watering the bean sprouts at least every 4 hours(3 times per day). If that is a hot weather day, watering the bean sprouts every 3 hours (5 times per day).

Repeat the same operation every day. The length of bean sprouts depends on you, normally can harvest on day 5. If you like longer, you can harvest on day 6.
🐟 Stir Fry Bean Sprouts with Salted Fish
Sauté Salted Fish.

Add in minced garlic, spring onions, sliced carrot and red chili shreds, stir well.

Pour in bean sprouts, add oyster sauce and pepper for seasoning. Stir well.

Put some spring onions for decoration, the. It is ready to serve.
NUTRITION
Serving:
1
portion
|
Calories:
97
kcal
|
Carbohydrates:
7.7
g
|
Protein:
7
g
|
Fat:
9
g
|
Saturated Fat:
1.7
g
|
Cholesterol:
9
mg
|
Sodium:
610
mg
|
Potassium:
288
mg
|
Sugar:
1.1
g
|
Calcium:
43
mg
|
Iron:
1
mg
We are Penangites who love to COOK & EAT, so we are sharing the food we love with you. Know more about us…
---
Related Recipes