It's the season of durian harvest again, and various desserts with durian flavors must be arranged. In this issue, I will share with you a very cute and 'atas' dessert-Mini Durian Tart. Durian lovers don't miss it.
Tart Crust
Because the tart crust needed to rest, so the dough must be processed first. This tart crust has been made with all-purpose flour before, presumably because the all-purpose flour I used has good gluten. No matter how you flip it, the gluten will naturally develop after the dough is rested, and it will shrink a little when it is baked. Therefore, if the tart crust looks a little shorter, only can fill less custard. As for the taste, there is not much difference. It is recommended to use low protein flour to reduce the chance of overturning.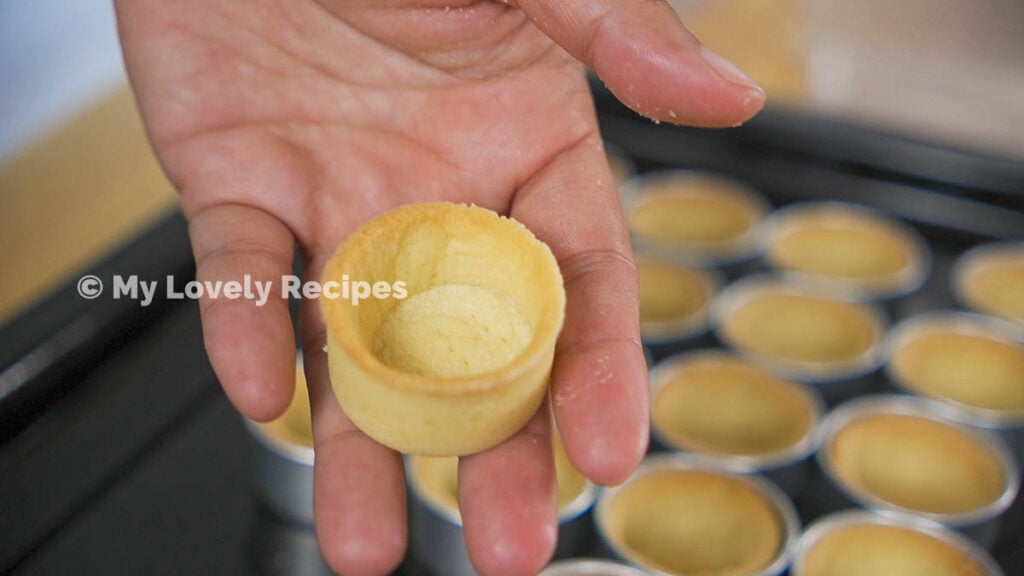 Custard
What kind of durian you like to use is OK. If you don't like the taste of durian, just follow the recipe and adjust the amount of sugar by yourself. Cook it and it will be the original custard. You can also eat it with your favorite diced fruit and it's delicious.
Crispy and delicious, these mini durian tarts are great for party desserts or as a gift. One bite is more than addicting.
If you think making custard is troublesome or don't like any additives, you can also use fresh durian instead. It tastes more natural and delicious.
If you like the Mini Durian Tarts we share, welcome to share with your relatives and friends~ I wish you happy everyday~
You might love our creme brulee recipe.
Mini Durian Tarts
It's the season of durian harvest again. Crispy and delicious, these mini durian tarts are great for party desserts or as a gift. One bite is more than addicting.
Please Click 1-5 Star to Rate This Recipe
Print
Pin
Comment & Rate
INGREDIENTS
TART CRUST
150

g

Low Protein Flour

40

g

Powdered Sugar

A Pinch Of Salt

90

g

Unsalted Butter

cold

25

g

Egg Liquid
DURIAN CUSTARD
3

Egg Yolks

Grade A

250

g

Milk

20

g

Granulated Sugar

15

g

Corn Starch

100

g

Durian Flesh
---
---
INSTRUCTIONS
Put salt in a large bowl, sieve low protein flour, and powdered sugar, add in unsalted butter, flip with a spatula and mix well.

Beat the eggs, add 25g of egg liquid, then use a spatula to mix all the ingredients evenly and mix to form a dough.

Wrap the dough with plastic wrap, press flat, and put it in the refrigerator to rest for at least 30 minutes.

Put the egg yolks in a bowl first, add the sugar and mix well, then add the corn flour and mix well for later use.

Then boil the milk until small bubbles form around the edges and turn off the heat.

Pour the milk into the egg yolk mixture, stirring while pouring in to avoid clumping.

Add durian flesh and mix well, then sieve out durian fiber.

Cook the durian custard over low heat, stirring constantly to avoid bursting and clumping.

You can turn off the heat when it is almost thick because the pot is still warm, pour the durian custard into a bowl and cover with plastic wrap before placing it in the refrigerator.

While the durian custard is refrigerated. Let's make the tart crust, and press 13g of dough into the mold with a press tool.

Press out more of the dough and cut off left and right with a knife to make the tart skin look flat.

Poke a few holes in the bottom of the tart skin with a fork to help it be breathable to avoid the problem of the bottom bump.

After the poke is done, it can be sent to the oven preheated to 170°c. Put in the middle rack with upper and lower heat on 170°c and bake for 15 minutes, then turn to the upper heat and bake for 3 to 5 minutes to color.

After baking, take it out and let it cool, then demould, put the durian custard in a piping bag and squeeze it into the tart to enjoy.
NOTES
❤️ Tips
1. If you don't put durian, it is the original custard. And you can add your favorite diced fruit, which is also delicious.
2. The tart crust can be baked and sealed in an airtight box for 2 weeks. When you want to eat it, squeeze the custard in, the tart crust is still crispy. If you squeeze the custard into the tart crust and put it in the refrigerator then take it out to eat, the tart crust will not be so crispy.
NUTRITION
Serving:
1
pc
|
Calories:
78
kcal
|
Carbohydrates:
9.3
g
|
Protein:
1.6
g
|
Fat:
4
g
|
Saturated Fat:
2.3
g
|
Cholesterol:
35
mg
|
Sodium:
107
mg
|
Potassium:
29
mg
|
Fiber:
0.3
g
|
Sugar:
3
g
|
Calcium:
25
mg
We are Penangites who love to COOK & EAT, so we are sharing the food we love with you. Know more about us…
---
Related Recipes