Some YouTube friends asked us to share more steamed cakes with different flavors. They said that their children love it so much. Today, we will steam the charming purple sweet potato steamed cupcakes.
Method
The method of this purple sweet potato steamed cupcakes is a bit different from the original flavor, the banana and pandan steamed cake, it will be more like a combination with the baked durian sponge cake. It is easier to beat the egg whites separately than the whole egg, and it only takes about 5 minutes to beat until a stiff peak forms.
Bamboo Steamer
Steaming cakes in a bamboo steamer will rarely fail as long as the time and heat are well controlled. Because its material is breathable, the cake will not accumulate too much water vapor and become heavy and collapse. But because the space of the bamboo steamer is only suitable for steaming cakes in a small bowl like this, if you want to steam a standard cake mold, it will rise and hit the lid. If you want to steam it in a stainless steel pot, please refer to the steaming cake video we shared earlier. There are many tips on steaming cake videos.
Mold
It's okay to use any molds for these small cakes. There are aluminum, ceramic, and glass. Three different material molds. However, you need to pour a little oil to grease these molds with a thin layer of oil. After steaming, it is easier to demould.
The purple sweet potato steamed cupcakes are very charming in color and very fluffy and dense in taste. Those who like purple sweet potatoes must give it a try. You can keep it in the refrigerator for 2-3 days. It will taste better when you steam it and eat it while still hot.
Purple Sweet Potato Varieties
There are many varieties of purple sweet potatoes, and they all look very similar. But if you look closely, you can still see a little difference. There are only 2 kinds that I can buy here in Penang.
One of the purple sweet potatoes, which looks very similar to the local sweet potato, with a rougher skin and brownish color. Another one, the skin will be more delicate and slightly purplish red, and generally this kind of purple sweet potato has a brand label. I guess this should be a Japanese purple sweet potato. Cut and put them together will obviously see the differences in the color. The color of Japanese purple sweet potato will be lighter than that of local purple sweet potato.

Regarding the flesh texture, the light-colored Japanese purple sweet potato is not so hard to cut. In contrast, the dark-colored local purple potato requires more effort to cut. Moreover, its color will be stained on the cutting board. After being steamed, the light-colored flesh tastes more dense, soft, and sweet. The darker local purple sweet potato will be a bit harder and dry. The taste is not as good as the light color, but it is not bad.
After pressing both types of purple sweet potatoes into mash, the light-colored Japanese purple sweet potatoes seem to be less because it is moister and sticks together. The darker ones are loose and dry, so they seem to be more. In addition, different varieties of purple sweet potato have different water absorption properties. The darker ones will thicken when blending into juice.
Temperature and The Color Changes
Because they are natural pigments, they will change color after mixing with other ingredients, heating or cooling. The color of the steamed cake will be slightly different every time. I also made a 7-inch purple sweet potato cake, but the color is not the same as the purple sweet potato cupcakes. Because of the length of heating time, it will also cause some changes in color.
In fact, the texture and taste of the cakes made from these two kinds of purple sweet potatoes are almost the same except for the difference in color. The nutritional value is just as good. Of course, there are more than two varieties of purple sweet potatoes, if you can't buy dark purple sweet potatoes where you live. You can add an appropriate amount of natural purple sweet potato powder to the batter so that the steamed cake can also have a vibrant purple color.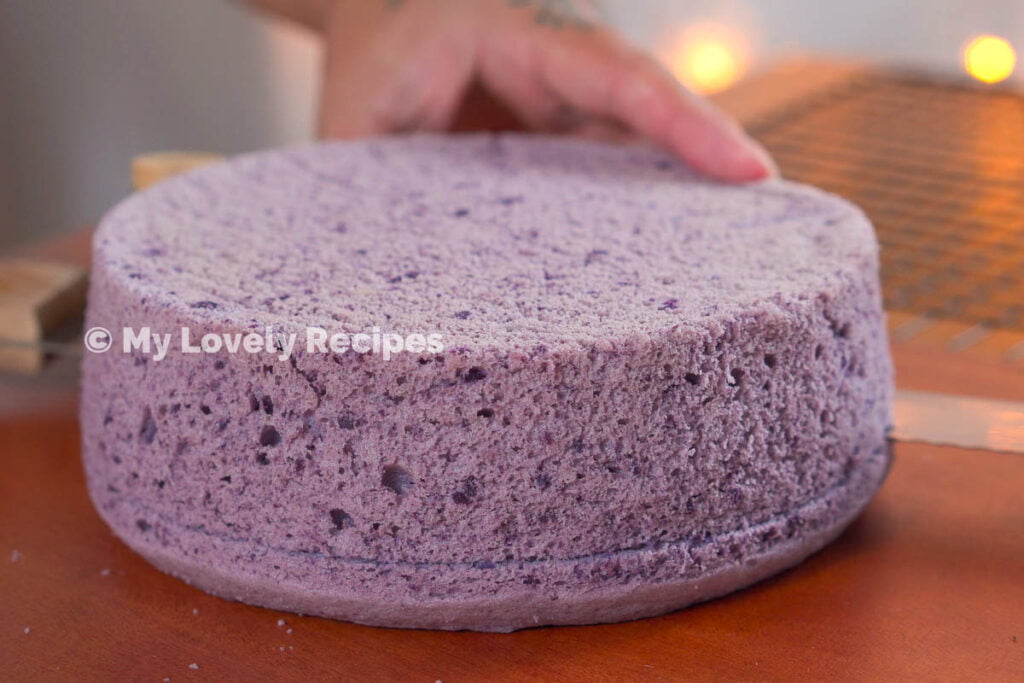 If you like the recipe of purple sweet potato steamed cupcakes we shared, welcome to share with your relatives and friends~ Have a nice day!
Purple Sweet Potato Steamed Cupcakes
The purple sweet potato steamed cupcakes are very charming in color and very fluffy and dense in taste. Those who like purple sweet potatoes must give it a try.
Please Click 1-5 Star to Rate This Recipe
Print
Pin
Comment & Rate
INGREDIENTS
4

Eggs

about 65g each with shell

80

g

Cake Flour

80% AP Flour + 20% Corn Starch

50

g

Corn Oil / Butter

A Pinch of Salt

40

g

Caster Sugar

0.5

tsp

Lemon Juice / White Vinegar

70

g

Milk

20g Milk Powder+50g Water
---
---
INSTRUCTIONS
Peel and cut purple sweet potato into small pieces. Steam on high heat for 10 minutes or until soft.

Mash the steamed purple sweet potato and let it cool for later use.

Grease the mold with a thin layer of oil evenly.

Add enough water to the pot, put on the steamer and start to preheat.

Separate the egg yolk and put it into the mashed purple sweet potato, then add corn oil, salt and milk, and then mix well.

Separate the egg whites into a large bowl free of oil and water, and add lemon juice or white vinegar.

Beating with a whisk at high speed until the egg whites appear coarsely foamed, add caster sugar in 3 batches, and continue to beat at high speed until stiff peak form.

Pour in the purple sweet potato paste and continue to mix evenly with a whisk.

Sift the cake flour into the meringue in 3 batches, and mix until there is no dry powder.

Scoop the mixed batter into the mold, and use chopsticks to remove some bubbles and flatten the batter.

Put it into a steamer and steam on medium heat for 18 minutes and then turn off the heat simmer for 2 minutes.

Use a knife to cut along the edge to unmold, and you can enjoy it. The steamed cake tastes the best to eat while it is hot!
NUTRITION
Serving:
1
piece
|
Calories:
159
kcal
|
Carbohydrates:
16.3
g
|
Protein:
4.3
g
|
Fat:
8.7
g
|
Saturated Fat:
1.6
g
|
Cholesterol:
83
mg
|
Sodium:
63
mg
|
Potassium:
96
mg
|
Fiber:
0.7
g
|
Sugar:
6.2
g
|
Calcium:
28
mg
|
Iron:
1
mg
We are Penangites who love to COOK & EAT, so we are sharing the food we love with you. Know more about us…
---
Related Recipes