Today I would like to share with you a Tong Shui that we drink during the seasons is changing, the throat might feel dry, sore, or cough. Although it is said to be Tong Shui, some ingredients contain natural sugars. So, no extra sugar was added. Another point to note is that if you have a cough and phlegm, you must temporarily avoid any sugary foods and drinks.
Soothing Throat
Snow Pear has a sweet taste. Medical research has shown that Snow Pear has the functions of moistening the lungs and clearing dryness, relieving cough, and resolving phlegm. Chuan Bei tastes sweet and bitter and is slightly cold. These two ingredients are commonly used to treat the symptoms of cough. However, Snow Pear is a cool fruit, so eating too much at one time is not recommended, especially for women. The same Chuanbei should be used with caution for those with spleen and stomach deficiency and cold phlegm and damp phlegm. The sweet and warm dried tangerine is a kind of food made by marinating the orange flesh and drying it. It has a natural citrus aroma and has the functions of invigorating the spleen and stomach, relieving cough and resolving phlegm, and regulating Qi. These three ingredients are basic versions of soothing throat Tong Shui. As for the snow lotus seed, it mainly has the functions of dissolving phlegm and dampness, moistening the intestines and laxative, diuretic, and assisting in lowering blood sugar. However, snow lotus seeds belong to the cold constitution and are not recommended for pregnant women.
Nourishes Qi and blood
Coughing for a long time will lead to shortness of breath, and always feel stuffy in the chest and have no strength to speak. Therefore, an appropriate amount of red dates and Longan is added to the recipe of Tong Shui. Red dates are warm in nature and sweet in taste, used for invigorating Qi in the spleen and stomach. Longan also is warm, nourishes the heart and spleen, nourishes blood, and calms the nerves. However, it is not suitable for people with bloating, hyperacidity, diabetes, or when they are heaty and inflamed. These two ingredients are mainly used to balance the coldness of Chuanbei and Snow Pear.
This Tong Shui is more suitable for people who have a hot cough, because the cold Snow Pear, snow lotus seeds, and Chuanbei clear heat and moisten the lungs. hile the dried tangerine is warm and has a balancing effect. As for the role of longan and red dates, it is to nourish Qi and blood, which is suitable for people who have been coughing for a long time and have shortness of breath. For those with a cold cough, they should drink hot ginger tea to recuperate.
Diet therapy is a more natural way of healing. What is indispensable is that you should pay more attention to the changes in your condition, and the habits in your life. Only by cooperating to improve your condition as soon as possible. If it worsens, please stop immediately or consult a doctor as soon as possible. In terms of diet, do not eat spicy and cold foods, for the time being, eat more fruits and vegetables and drink warm water. Stay calm and don't panic. Increase the amount of exercise depending on the physical condition, and besides sweating, it can also help blood circulation and promote metabolism.
If you like the Soothing Throat Tong Shui recipe we shared, welcome to share it with your relatives and friends~ I wish you a happy life!
We do have other Tong Shui recipes, Bubur Chacha and Taro Balls Dessert.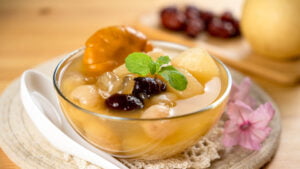 Throat Soothing Tong Shui
A Tong Shui that we drink during the seasons is changing, the throat might feel dry, sore, or cough. Although it is said to be Tong Shui, some ingredients contain natural sugars.
Please Click 1-5 Star to Rate This Recipe
Print
Pin
Comment & Rate
---
---
INSTRUCTIONS
Soak the snow lotus seeds in water before you started to cook the Tong Shui.

Put red dates, longan, dried tangerine, and snow pear (peeled and cut into pieces) in a pot, add water to boil, and turn to low heat after boiling.

After simmering on low heat for about 20 minutes, open the lid and add the soaked snow lotus seeds and stir well Chuan Bei powder with room temperature water and pour into the pot.

After adding these two ingredients, bring to a boil, then turn off the heat, close the lid and leave for 5-10 minutes.
NOTES
❤️ Tips
1. Please enjoy it on the same day. It is not recommended to refrigerate. If you have a cough, temporarily avoid eating and drinking refrigerated food.
2. If you don't like to eat snow lotus seeds, you can add them to the pot together with other ingredients and cook, the snow lotus seeds will melt and the Tong Shui will become thicker and smoother.
3. If you buy Chuanbei granules, put them in a pot together with other ingredients and cook.
4. If this Tong Shui has an effect, it is recommended not to drink it every day to avoid extremes. It is recommended to drink it every few days depending on the situation. During this period, you can drink more warm water and exercise moderately to promote blood circulation.
NUTRITION
Serving:
1
people
|
Calories:
47
kcal
|
Carbohydrates:
11.9
g
|
Protein:
0.7
g
|
Fat:
0.3
g
|
Sodium:
16
mg
|
Potassium:
150
mg
|
Fiber:
2.9
g
|
Sugar:
8
g
|
Calcium:
30
mg
We are Penangites who love to COOK & EAT, so we are sharing the food we love with you. Know more about us…
---
Related Recipes