In this issue, I will share with you a Chinese white sugar sponge cake (Bai Tang Gao/Bak Tong Gou), also called Lunjiao cake. Like Steamed Malay Cake, it is a common traditional cake in Guangdong, China. And it also needs to be fermented with yeast. The difference is that the fermentation pores of this pastry taste bouncy and chewy, not sticky and it is elastic and not easy to break when folded. The taste has the sweet aroma of rice, and the fermentation time is appropriate so that it will not become sour. On the contrary, if you like a sour taste, you can extend the fermentation time.
---
Rice Flour
Different brands of rice flour will have different water absorption because rice flour is also made from rice. Of course, different types of rice will have different water absorption. As for the place of origin of the rice flour, I personally don't think it is particularly important. On the contrary, the flour made locally in Malaysia does not have the smell of stinky powder, which is quite good. Also, be sure to use 100% rice flour. Pay attention to the ingredient list on the back of the package when purchasing. Because some rice flour has mixed with corn flour.
Moisture
The ingredients needed for white sugar cake are really simple, but there are certain requirements. Take rice flour as an example. It is also mentioned that different varieties of rice have different water absorption properties. Therefore, this directly affects the amount of water. The rice flour is processed, and its water absorption will be more than that of rice. This part is best observed carefully during the first trial. Usually, if there is too much water, it will become with no air bubbles looking just like glue and sticky. On the contrary, if there is less water, the cake will be dry and inelastic, and there will be powder lumps and only a few tiny air bubbles inside.
Temperature
It is necessary to use high heat to steam this kind of pastry so that the high temperature can stimulate the yeast bubbles to form lush pores at the beginning. Therefore, if you want to conduct heat well and quickly, try to use stainless steel or aluminum molds. In addition, a wide and low plate can be used to help heat evenly, and the internal honeycomb tissue of the white sugar sponge cake can expand. And you have to wait until the water is boiled before putting it in the steamer.
Rest
We omitted the step of resting at the beginning of the trial because we felt that the fermentation time was so long and the resting would be more time-consuming. We don't know that this is also a very important step, caused the final state and texture of the cake itself are not ideal.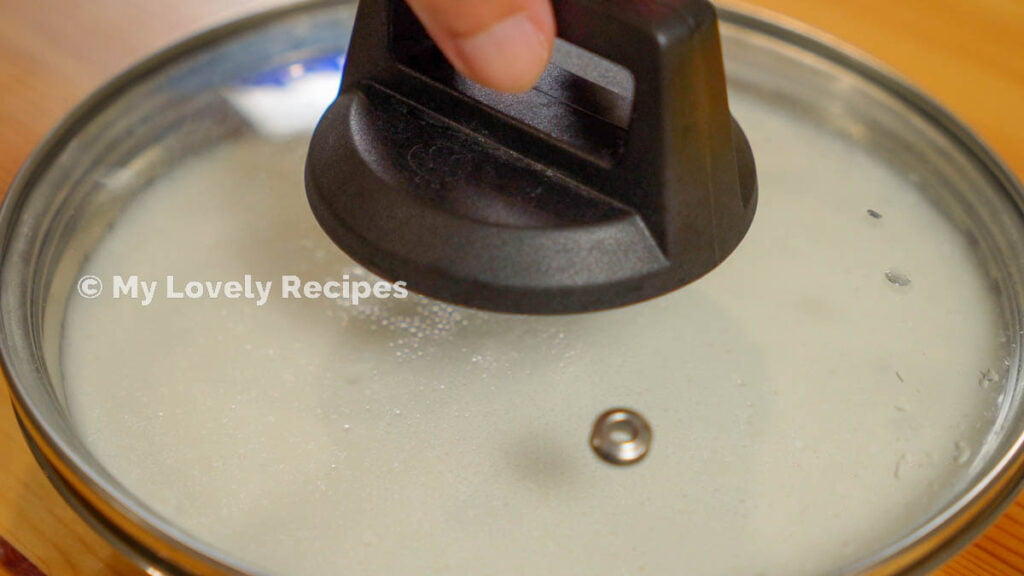 Yeast
We started by using ordinary instant yeast that we already had at home to make white sugar cakes. However, the honeycomb texture of the cake was not ideal. Later, after switching to high-sugar-tolerant instant yeast, the situation has been greatly improved! After all, this pastry needs a certain amount of sugar to ferment to achieve a crystal-clear and translucent cake with a resilient mouth.
I don't have any special feelings for white sugar sponge cake. I think it tastes chewy, non-sticky, and has a rice fragrance. But it is the old taste or the good taste of nostalgia in the minds of many people. If you like this recipe, please share it with your family and friends~
White Sugar Sponge Cake
The White Sugar Sponge Cake has the sweet aroma of rice, taste bouncy and not sticky. It is the old taste or the good taste of nostalgia in the minds of many people.
Please Click 1-5 Star to Rate This Recipe
Print
Pin
Comment & Rate
Servings:
150
g Rice Flour
EQUIPMENT
7-inch stainless steel pan
---
---
INSTRUCTIONS
Pour rice flour and sugar into a small pot, add water, and stir well.

Boil the rice batter into a half-cooked state (like yogurt drinks texture) by double boil method.

After cooking and stirring well, you can put a plate of cold water at the bottom to help cool down quickly

After the rice batter cools down, add high-sugar yeast and stir well, close the lid, and ferment for 2 hours.

Spread a layer of corn oil on the plate.

After the fermentation time is up, add corn oil to the rice batter and stir well, then pour it into the plate and let it rest for 20 minutes.

After 20 minutes, turn on the high heat to preheat the steamer, wait for the water to boil before putting the rice batter in, and continue steaming for 20 minutes on high heat, then turn off the heat and leave it for 5 minutes.

Take it out and let it cool before unmolding and cutting it so that it will not stick.
NOTES
❤️ Tips:
If you can't finish eating, you can store it in the refrigerator for about 3 days, just steam it when you want to eat. The longer you keep it, the taste will become sour. It is recommended to finish eating as soon as possible.
NUTRITION
Serving:
1
portion
|
Calories:
147
kcal
|
Carbohydrates:
32.7
g
|
Protein:
1.6
g
|
Fat:
1.2
g
|
Saturated Fat:
0.2
g
|
Sodium:
2
mg
|
Potassium:
26
mg
|
Fiber:
0.7
g
|
Sugar:
12.5
g
|
Calcium:
4
mg
We are Penangites who love to COOK & EAT, so we are sharing the food we love with you. Know more about us…
---
Related Recipes