When I was a kid, when siblings have birthday party will have lots of delicious dishes on the table for everyone at Grandma's house. There are desserts, cakes, fruits jelly, curry chicken, fried noodles, and fried rice. One of the best selling dish is grandmother's Belacan Fried Chicken Wings. When the chicken is frying, the aroma has already smells good to the neighbourhood. As long as the Belacan fried chicken wings are served on the table, all people just go and grab it. Finished all of Belacan fried chicken in just a few seconds. Haha
Belacan fried chicken is one of the Malaysian national cuisines, and it is not difficult to find it at the nasi lemak stall or hawker food centre. The spice of this dish is also changed due to the adjustment of various tastes. No matter what spice is added, it must be inseparable from the soul seasoning- Belacan (Shrimp Paste). This time our recipe adds a little curry powder to enhance the flavour. If you like to eat heavy flavours, you can adjust the amount of seasonings or marinated it overnight to taste more flavour.
Information from the internet
Belacan is a seasoning made from shrimp paste in Southeast Asia. In addition to the shrimp paste, the ingredients of the Sambal Belacan are added with red pepper, onion, ginger and minced garlic. Belacan is a common seasoning in Southeast Asia. Since the nineteenth century, residents of coastal areas of southern China have migrated to Nanyang in large numbers, that is Malaysia, Singapore and Indonesia. China's food culture is integrated with local eating habits and ingredients, and these spices are brought back to China. Therefore, Belacan is also a common seasoning in South China. People's reaction to shrimp paste has a very extreme olfactory response like the smell of durian. People who love to eat think it is very fragrant, people who don't like to eat think it is very smelly. Therefore, those who make seasoned shrimp paste will use cooking skills to adjust this taste to a popular flavour.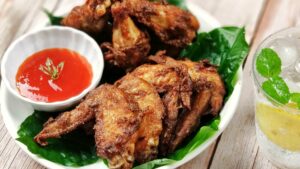 (Shrimp Paste) Belacan Fried Chicken Wings
Belacan fried chicken is one of the Malaysian national cuisines, and it is not difficult to find it at the nasi lemak stall or hawker food centre.
Please Click 1-5 Star to Rate This Recipe
Print
Pin
Comment & Rate
INGREDIENTS
4

pcs

Chicken Wings

10

g

Belacan

1

tsp

Sugar

1

tsp

Oyster Sauce

2

tbsp

Rice Flour

1

tbsp

All Purpose Flour

0.5

tsp

Curry Powder

0.5

tsp

Pepper

0.5

tsp

Garlic Powder

2

tsp

Cooking Wine

Proper amount of cooking oil
---
---
INSTRUCTIONS
Toast Belacan and mince it into powder.

Put toasted Belacan powder, garlic powder, sugar, oyster sauce, curry powder, pepper, cooking wine, rice flour and all purpose flour into a bowl and mix well with chicken wings.

Put in refrigerator marinate at least 2 hours or overnight for more flavour.

Stir well chicken wings after take it out from refrigerator, and put it into hot oil to deep-fried until cooked.

Put the fried put chicken wings on a rack to drain the oil and it's ready to serve.
NUTRITION
Serving:
1
people
|
Calories:
281
kcal
|
Carbohydrates:
20.9
g
|
Protein:
13.9
g
|
Fat:
15.2
g
|
Saturated Fat:
3.8
g
|
Cholesterol:
61
mg
|
Sodium:
643
mg
|
Potassium:
119
mg
|
Sugar:
2.2
g
|
Calcium:
107
mg
|
Iron:
2
mg
We are Penangites who love to COOK & EAT, so we are sharing the food we love with you. Know more about us…
---
Related Recipes